Empower yourselves with Microsoft Power Platform. 
Power Platform courses are now available for registration!

HTX Recommended Learning Pathway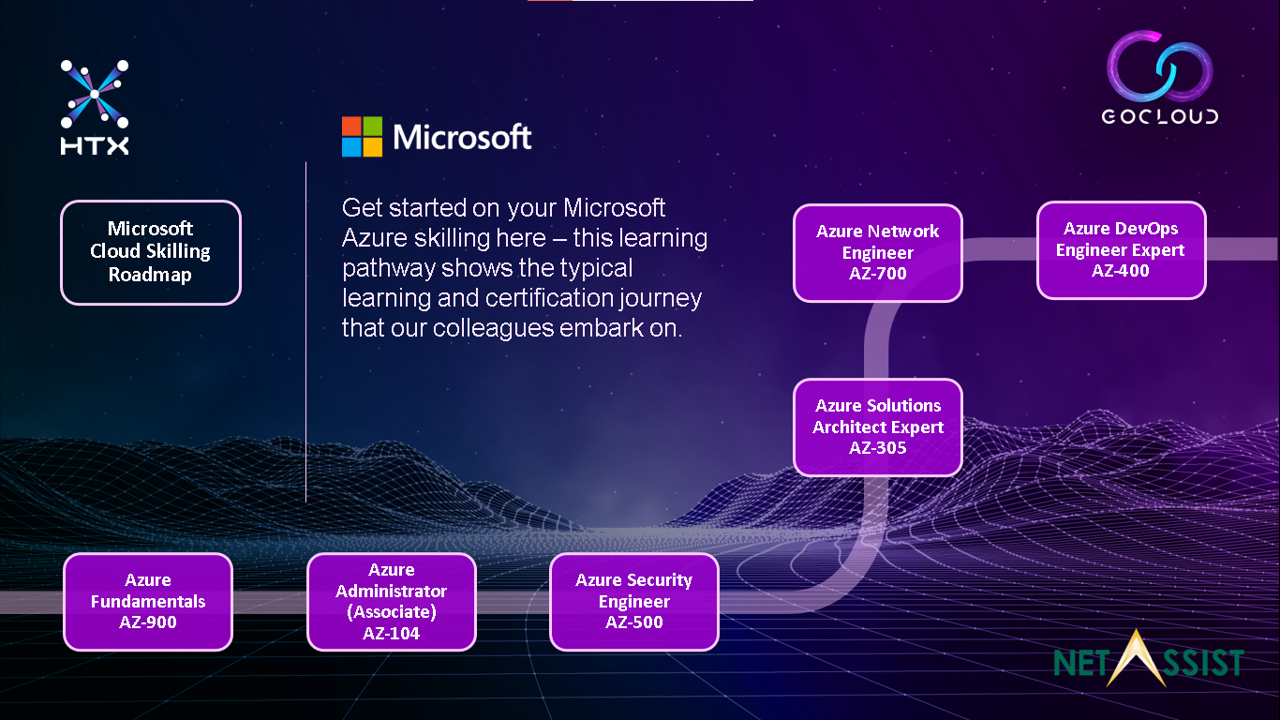 STEP 1
AZ-900
Azure Fundamentals
Understand cloud concepts
Understand what are Azure services, workloads, security and privacy in Azure, as well as Azure pricing and support
STEP 2
AZ-104
Azure Administrator (Associate)
Familiarise with the Azure Cloud Environment​
Understand Billing Tooling available​
Design secure and reliable networks Design network monitoring solutions for compliance
Understand basic IAM and RBAC administration
STEP 3
AZ-500
Azure Security Engineer
Understand Identity and Access Solutions​
Build solutions that protects organizational security posture​
Understand security concepts to meet IM8 Compliance concepts​
Familiarise with Azure native security tools
Step 4
AZ-305
Azure Solutions Architect Expert
Design Solutions that are more cost-effective​
Embed Security considerations upfront ​
Build applications that meet project, organizational and government needs
Step 5
AZ-700
Azure Network Engineer
Understand Azure native networking solutions​
Understand underlying network infrastructure ​
Design secure and reliable networks​
Design network monitoring solutions for compliance
Step 6
AZ-400
Microsoft DevOps Engineer Expert
Plan for the transformation with shared goals and timelines​
Explain the role of Azure Pipelines and its components​
Understand DevOps Solutions and benefits​
FAQs
Step 1: Go to LxP
Step 2: Enter work email. (Please use @htx.gov.sg email for LxP login. Do not use @hometeamsnt.onmicrosoft.com)
Step 3: Select "Send Code"
Step 4: Enter code sent to work email
Step 5: Sign in with a personal Microsoft account (e.g: hotmail.com, outlook.com, etc)
Step 6: Enter your Microsoft account password
Step 7: Select "Agree" to link accounts
Need help signing in? Please contact: ESI Support
Do check your log-in credential. The first log-in prompt is using work email (@XXX.gov.sg) with the password and the second log-in prompt is using your personal email (Hotmail/Outlook/Gmail, etc) without a password.
For SPF staff, please use your work laptop to access the LxP.
We recommend PCs/laptops that have no restrictions (some corporate-issued machines have issues accessing certain sites or doing lab work), and a secondary screen for the best virtual class experience.
Microsoft Teams App is useful but not necessary. Please ensure you can view the Teams chat during the class either via Teams web browser or Teams apps.
Step 1: Log in to Microsoft ESI Learner Experience Portal (LxP)
Step 2: Go to the "Microsoft Certifications" and click "Schedule".
Step 3: Choose your desired exam and it will bring you to the Pearson VUE site.
Step 4: Sign in with your Microsoft account (personal email) for your Microsoft certification. If you do not have an account, click "Create New" to create one Microsoft account.
Step 5: On the Exam Discounts page, validate your work email to check your eligibility and link your personal account with your work account to enjoy the ESI exam discount (50%)
Step 6: Click "Claim" to enjoy the 50% discount before scheduling an exam.
---
For step-by-step guidance, check out the ESI exam discount video.
When creating the Pearson VUE certification profile, do not include the "," in the Legal name field even though it is in your NRIC. If you have included the "," in the field and cannot remove it, you can either create a new Microsoft Certification profile or you'll need to submit a change request using the Microsoft Certification Profile Name Change Request Form. Please allow 48 hours for the change to take effect.
Log in to your Certification Profile to unlink your account with your previous work email.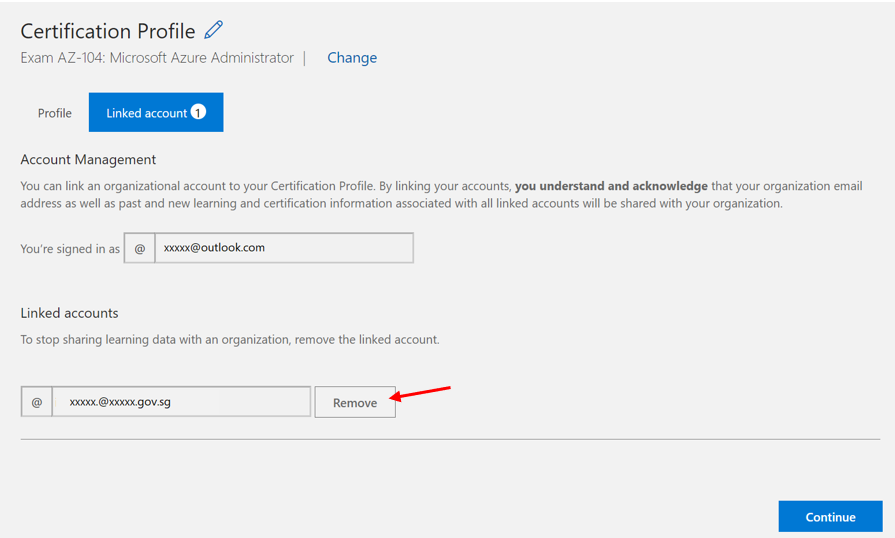 Now, you can link your account with your current work email to validate the eligibility.